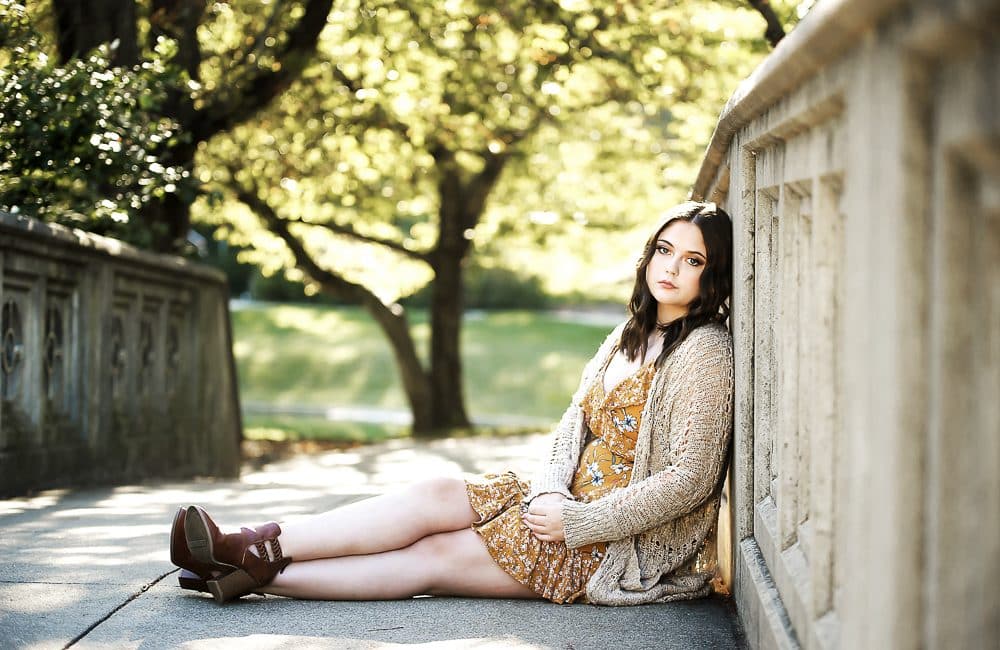 Eden Park Senior Portraits
Need to see examples?  I'll show you some of my favorite senior pictures at Eden Park. It is such a beautiful spot because there is lots of greenery, water, architectural points of interest and tall grasses for a softer portrait. Let me give you a little tour of the places I use when I visit the park with one of my seniors…
The first image you see here is one of my favorite poses and locations in the park.  It looks like such a paradise! I prop my girls up on this rock directly in front of the lake and I get down real low like she is and shoot straight at her to get this shot.
These next three images are all taken on the bridge that sits over the Twin Lakes. I do several poses on this bridge. Standing in the middle, sitting down and also leaning on one side. The outfit my senior is wearing will decide what pose I put her in. A professional photographer knows all the most flattering poses so you always look your best.
Every Season Makes Gorgeous Senior Portraits
One thing I will also point out is that we had our senior portrait session here in early September. The colors you see here will differ depending on what time of year you go to do your own pictures. No matter what season you choose, your pictures will be gorgeous at this location.
This building you see below is actually the restrooms at the park.  I love taking some shots here because it adds so much texture and patterns to my images. I take pictures of my clients leaning all around it. What you don't see here is there is also a little waterfall right behind this building. I don't have an example to show you because it wasn't turned on when we were there.
Now, this is another place I love to go to especially during Golden Hour because the light is just so beautiful here.  This is located down the hill a little bit passed Krohn Conservatory and all the locations I showed you above. This is the rock wall that everyone loves to come and practice climbing on.  We are on top of the wall here.  Its wide open with a grassy area that also has some exposed brick on the path along with a decorative rod iron fence all the way around. Don't miss this spot! 
TIP: Keep the light BEHIND you. Your photographer should know this already but just in case.... tell them. If the light is directly in your eyes, you will squint and that is never a pretty picture.
I hope you liked my tour!  If you want to get some small town shots in addition to these park locations, all you have to do is drive up the hill to Mount Adams.
Eden Park senior portraits are popular and can be amazing when you have the right photographer.  
If you're interested in booking a session with me at Eden Park, or anywhere else, give me a call or submit the form below: