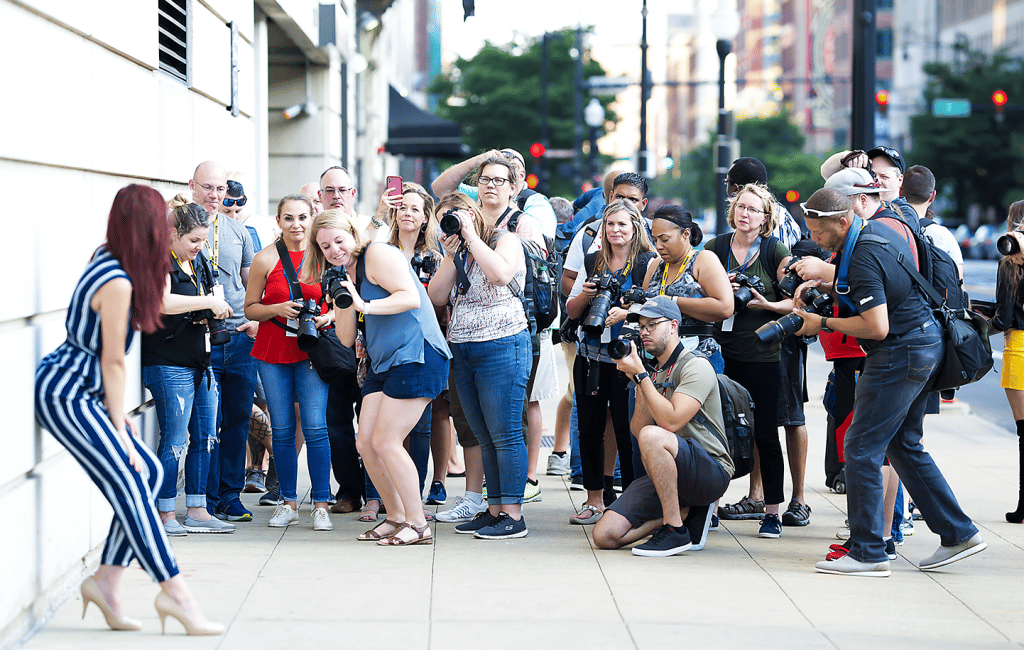 Photography classes are so much fun to take AND to teach! I was so honored to be asked to lead two classes in Chicago for ClickCon's debut. These classes focused on high school senior portraits, of course!  I was able to share with 80+ photographers what my photo shoots look like. I discussed consultations, products, the photo shoot itself, posing, how I decide wardrobe for the seniors, products I offer my clients as well as the sales process.
Chicago is very loud!  I was worried about whether I could talk over the noise of the city but my husband assured me I have the voice for it. (Is that a compliment?? LOL) Well, I tried to pause while the trains went by but I'm sure there were times when some couldn't hear everything I was saying.
So many people stopped to watch us because how often do you see this many photographers trying to take a picture of ONE girl?  A passerby even asked if she was a celebrity! I guess it would make the attendees look more like paparazzi!
I enjoyed doing this so much. I really do love helping other photographers learn and grow. I have many that I follow and learn from everyday. This industry is one that constantly changes so as an artist, I have to stay on my toes and keep educating myself every chance I get. In turn, I share what has helped my business with others.
Take a peek into my two classes in this two minute video of highlights:
I wish I could've gotten to see some of the sights of Chicago while I was in town but the conference was non-stop until I headed back to the airport! Guess I'll have to go back soon!